**Update as promised**
So, the past few weeks have been amazing. Let me start by letting you know that I FINALLY finished school!! WaHoo!!!!! I graduate with my MBA on May 19th, at 5:30pm. My program focused on international business. How I am going to relate that to a real-world job I still haven't a clue. But at least I'm done and I know everyone will be glad to stop hearing me complain about it.
Okay, the past few weeks have been crazy busy with IMAGE Film & Video. They actually hired me to do contract work for them in preparation of the Atlanta Film Festival, which ran April 19-28. I was also invited to attend their annual fundraising event, the Gala, since I worked on coordinating travel for filmmakers and a few Gala attendees.
The Gala honored John Sayles and Maggie Renzi, bestowing upon them the Ossie Davis Award which "recognizes creative excellence and dynamic contributions to the art of cinema." Their credits include: HONEYDRIPPER, THE BROTHER FROM ANOTHER PLANET, MALCOM X, PASSION FISH, and more. Oscar-nominated for writing Passion Fish, nominated for Writer's Guild Award, their films have been in Sundance and Cannes, they've been nominated for Golden Globe Awards, won Gotham Awards, Independent Spirit Awards, Golden Globes, and BAFTA. The Ossie Davis Award was presented by Charles S. Dutton.

The event was nice. Also in attendance was Will Packer, Producer, of STOMP THE YARD and THE GOSPEL. Rainforest Films is an Atlanta-based production company. STOMP THE YARD was number one at the box office for a couple of weeks, and it had a lot of local talent involved in the movie, especially the dancers. Here's a picture of me with one of the stomp dancers (from the winning team):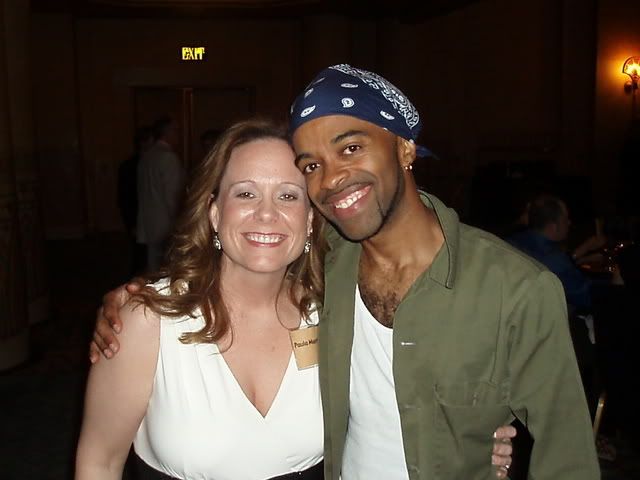 I had a good time. I've got to move on to the film festival though or y'all might get bored and delete me from your friends' list. For more professional photos, you can visit C Forty7's photo gallery. Here is a nice little slide show of some of my personal photos of the event though:

The 31st annual Atlanta Film Festival opened on Thursday night, April 19th. The event was held at the Regal Cinema in Atlantic Station, one of Atlanta's newest communities. The film that kicked off the whole shabang was LAST DAYS OF LEFT EYE. The story documents the life of Lisa "Left Eye" Lopes, from the all female R&B group TLC. "On March 30, 2002, she decided to document her life, filing a mysterious spiritual retreat deep in the jungles of Honduras. On April 25, she died in a tragic accident, leaving behind her unedited tapes.
Now, five years later, Lauren Lazin, the Oscar® nominated director of TUPAC RESURRECTION has edited the tapes Lisa shot, including footage from inside the vehicle during her final moments. Revealing private scenes from Lisa's journals and home movies, along with highlights from her celebrated career, LAST DAYS OF LEFT EYE presents an intimate portrait of Lisa's life, music and final spiritual journey." All of this information and more is available on the Atlanta Film Festival's website.
I actually worked this event, inside of the theater. My responsiblity was to help VIP's find their seats. I think the screening turned out fine. I do have a funny little story though. See, I know a lot of the celebrities' names, but I'm horrible with putting faces to the names. So, a few semi-famous people came up to me looking for their seats, Tamyra Gray (formally on American Idol), Big Boi, several of the Lopes family, and then one woman walked up to me and she was all alone. I asked her if she needed help finding her seat and she said yes. I then asked her if her name was on a VIP list. She told me that she didn't know. I asked her for her name and she said, "India Arie." I told her, "Yes, your name is on EVERYONE'S list" and that she can sit wherever she wants! I was so embarrassed, but she laughed and was very nice. She sat in the very top row.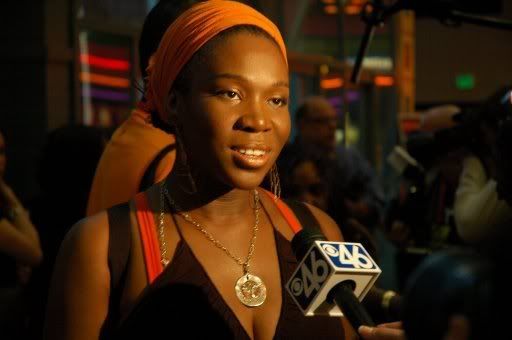 Cforty7 and CinemATL both have some excellent photos from opening night. You should definitely check them out. There were quite a few celebrities there--some more famous than others. After the film, everyone headed over to Strip for the afterparty. This is where I finally got to meet a lot of the people I had been emailing for the past several weeks. There were filmmakers, jurors for the competition films (Matt Dentler, of SXSW was one), panelists, media folk, and most of the movie-goers from the film. I did not see India Arie, though.
This photo is from Matt Dentler's blog on IndieWire (it's me, Dan Krovich, the festival director, and Gabe Wardell, CEO of IMAGE):
Here is the Lopes family and Monica:
CeeLo, Ovie & Big Boi:
Luckily, I got to camp out in the beautiful Georgian Terrace, a historic hotel, during the Atlanta Film Festival. I live about an hour and a half from Atlanta, so trekking it to and fro every day could've been brutal hell. Staying there had an added bonus because Robert Rodiguez was shooting a Martini commercial there with George Clooney, that will only be played in Europe. It was a closed set, but I did my best to behave like a crazed lunatic fan and gaucked in windows to try and score a quick glance of the ultimate McDreamy. I did see the front of him on one of the set monitors and I caught the back of him during a cut. Even though I only got to see him from behind in person (which was still very aesthetically pleasing), I was satisfied with my detective skills. He is very tall. You can read a little about the shoot here.


My main responsibility for the film festival was hospitality--to make sure the filmmakers, jurors and panelists were taken care of and happy. On Friday, the day that the regular screenings started, there was an event for the out-of-town filmmakers and jurors that was sponsored by the Georgia Film Office, in an effort to let filmmakers know about the support services that are available here, in hopes they might use Georgia as a location for their next film project. The event was a ride around town on the Fur Bus to various industry businesses.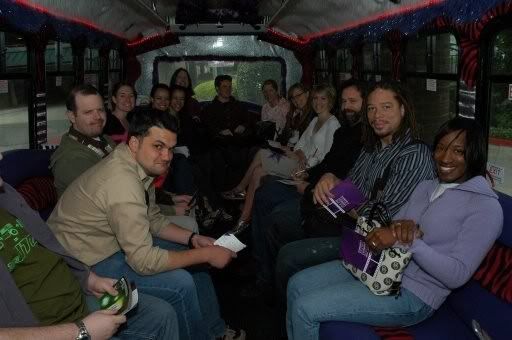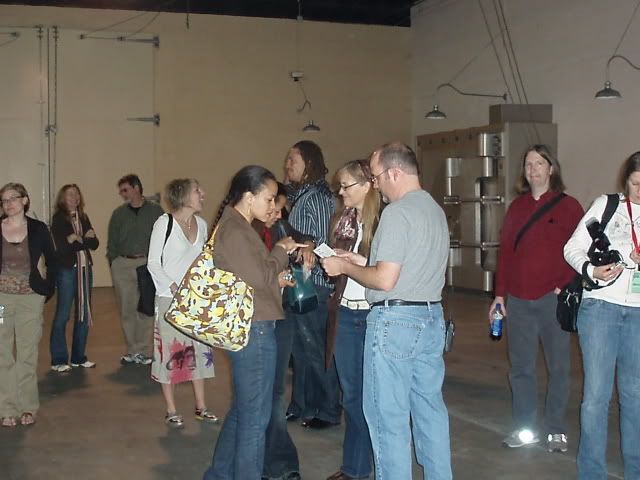 One of the stops was at Lab601. After serving the group JELLO shooters and free beer, Matt Dentler, Arik Sokol and Cevin Cathell took a brave ride down the fire pole. I caught them on video:


The film festival was held in one location this year, the Landmark Midtown Theaters. It was such an excellent venue because there were also restaurants and a bar, The Independent (coincidentally named), that served as the daily filmmakers' lounge, with happy hour every day from 4-5pm, serving free Stella Artois and Ravenswood wine. There were nightly parties the first weekend--which was great, but also exhausting. I got to hang out with some amazing people though. Alison Dickey was one of the jurors--she's John C. Riley's wife. The filmmakers were fantastic! Here are a few links to some of their MySpace pages: Heidi Van Lier, writer/director of MONDAY, Lanre Olabisi, director of AUGUST THE FIRST, Jeremy Saulnier, director of MURDER PARTY, Sean Meredith, director of DANTE'S INFERNO, and local favorite, Alex Orr, director of BLOOD CAR. There are several others but since I'm trying to keep everyone's attention I'll stop with these.


One of my favorite stories to tell about the festival was something that happened actually in protest of the movie BLOOD CAR. The Atlanta Film Festival had a small blimp promoting the festival. Well, apparently, someone thought it might be cute to steal the blimp in order to protest the showing of BLOOD CAR, which according to them was a movie that didn't support the troops because it called for using blood for oil. It's really a funny story and you can read all about it here.
Here is the video on YouTube of the people stealing the blimp:




Here are some photos of the festival:

Closing night came on Saturday, April 28th, with the screening of FAY GRIM, Hal Hartley's new movie. The movie is the follow up to HENRY FOOL. Hal came to town on his way to San Francisco. He is such a nice guy. I was lucky enough to be invited to have dinner with him, the festival director, Dan Krovich, IMAGE's CEO, Gabe Wardell and his wife, Trin. What a nice little graduation present, uh? The closing night party followed, in which I used to celebrate my last day of school and the closing of the festival. So, yes, I got a tad bit wild that night--but how often do you finish your MBA, right?
So, now I'm helping to send the film prints back to the filmmakers. I really liked working this film festival and I hope they keep me in mind for future projects, and this year's Out On Film Festival, which will be in October or November, they're still trying to decide on the date.
I had a great time and it was a wonderful experience! Till next time......
--Paula

***********************************
Man, have I got a lot to tell you! Unfortunately, it's late, I'm old and I don't have a lot of time to write a decent blog right now. I did, however, want to get my blog photos up before Holly beat me to it. So, this blog will be brief but I will come back and write a detailed and very descriptive blog about the last two weeks.
The past couple of weeks have been AWESOME! I met so many people, a lot of whom are now on the front of my page in my top friends list. Anywho, back to closing night. It was great! After a screening of Hal Hartley's new movie Fay Grim, everyone headed over to the Magick Lantern for a good time. They had an old-fashioned photo booth (which was free) and that's pretty much where I stayed all night. Oh, and guess what? I had dinner with Hal Hartley! Okay, now how awesome is that? Oh yeah, baby.